International students

Kia ora and welcome to our international students!

At Otago Polytechnic, we work collaboratively and are well connected locally and globally, striving always for excellence. We are proud to be making a better world together.
We are a leader in high quality education with some of the best student achievement and satisfaction results in New Zealand. Our qualifications are recognised around the world and will prepare you for global career success.
Otago Polytechnic welcomes the border re-opening plans announced by the New Zealand government on 3 February 2022:
Border to reopen in stages from 27 February – New Zealand Government website

Key points from the announcement:
New Zealand citizens and residents, and other eligible travellers under current border settings, can travel from Australia at 11:59pm on 27 February 2022.
New Zealand citizens and residents, other eligible travellers under current border settings, some skilled workers, and travellers on working holiday schemes can travel from the rest of the world at 11:59pm on 13 March 2022.
Current offshore temporary visa holders can travel at 11:59pm on 12 April 2022.
Open to anyone in Australia, for visa-waiver countries, and the Accredited Employer Work Visa by July 2022.
New Zealand's border reopens to visitors from anywhere in the world, and all visa categories fully reopen in October 2022.
Travellers, who are vaccinated, will be required to self-isolate on arrival for ten days, and will have to meet other health requirements.
Of particular note is the plan to allow up to 5000 international students into New Zealand in time for a July 2022 commencement of studies. We are currently awaiting further information to understand how many places the Otago Polytechnic will be allocated and the criteria for selection.
As soon as this information is confirmed we will update the information on our website.


Bespoke teacher training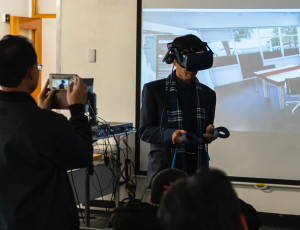 We have been teaching short training courses to overseas universities, colleges, and high schools for over 20 years. We employ teaching professionals who are experts in their field and can design bespoke programmes of learning to suit customers' needs.


For international faculty we offer fit-for-purpose programmes in learning and teaching, industry engagement, Work-based learning, advanced eLearning, English language and teaching practice in all subject matter areas taught at Otago Polytechnic.
Get in touch with us to have a programme tailored to your needs.
---
New Zealand - Aotearoa
Land of the long white cloud
New Zealand is known for its stunning natural scenery, from mountains, to lakes and coastlines. New Zealanders (informally known as Kiwis) are down-to-earth and friendly, and our lifestyle is relaxed, with a passion for the outdoors. 'Kiwi ingenuity' helps this small country achieve big things. With a history of Māori, European, Pacific Island and Asian cultures, New Zealand has become a cultural melting-pot. Over three-quarters of the population live in the North Island, with one-third living in Auckland. The other main cities of Hamilton, Wellington, Christchurch and Dunedin are where the majority of the remaining Kiwis dwell.
With a population of four million people, New Zealand is one of the least crowded countries in the world. We offer convenience, opportunities and excitement, while remaining friendly, peaceful and safe.
You can enjoy outdoor pursuits like bungy-jumping, kayaking, surfing, skiing and hiking, and have access to the arts, cultural pursuits and modern technology - it's all right on your doorstep! Enjoy your studies at Otago Polytechnic and experience a great lifestyle!
Find out more about New Zealand.